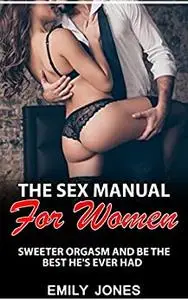 THE SEX MANUAL FOR WOMEN: SWEETER ORGASM AND BE THE BEST HE'S EVER HAD by EMILY JONES
English | 2022 | ISBN: N/A | ASIN: B09QMV7Q46 | 55 pages | EPUB | 0.15 Mb
For many years, the narrative that only men enjoy sex has thrived in our society. What happened to the women? Don't they love sex? Do they find sex repulsive?
That is not true. Studies show that women love sex and extensively discuss it among themselves. Unfortunately, they heavily pay for the tales we have circulated and internalized for several years. As a result, many men don't have the faintest idea of how to sexually satisfy their women. Don't blame them. Many women don't understand the art of sex either. Worse, they don't even know what they want. How can you communicate what your body craves when you haven't discovered them?
If you are in that category, or you are looking for new ways to spice your sex life, you have the right tool in your hands right now. Great sex only happens when both parties seek to please each other. Sex is life-saving, and it does not have to be boring. You can be the best lover he's ever had and enjoy the experience armed with the right pieces of information. That's why several years of positive experience and painstaking research have been explicitly written to take your sex life from zero to how high you want it.
It's time to take charge of your bedroom life and be the pro you've dreamt of all along!
Feel Free to contact me for book requests, informations or feedbacks.
Without You And Your Support We Can't Continue
Thanks For Buying Premium From My Links For Support