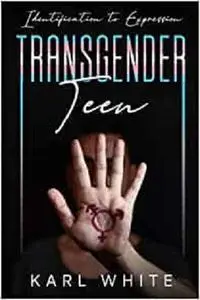 TRANSGENDER TEEN: Identification to Expression by KARL WHITE
English | May 12, 2021 | ISBN: N/A | ASIN: B094SZMJTV | 110 pages | EPUB | 0.18 Mb
Transgender Teens: Sometimes Caution is the Right Approach
SOME PEOPLE DON'T IDENTIFY THEIR GENDER AS THE SEX THEY WERE ASSIGNED AT BIRTH.
Some people, for example, may have been born with a p****, and designated male at birth as a result, but later realize that they identify as women and typical social standards of masculinity or femininity don't apply to them. These people are adopting forms of gender identity and expression that aren't related to their body parts or what sex a doctor decided they are at birth.
MANY OBSTACLES CAN MAKE IT DIFFICULT FOR PEOPLE TO COME OUT UNTIL LATER IN LIFE
And to understand what transgender, gender nonconforming, genderqueer, and nonbinary mean, you have to understand what gender identity and expression are, and how both concepts differ.
WHEN TEENAGERS CONFIDE THAT THEY ARE TRANSGENDER OR UNCERTAIN ABOUT THEIR GENDER IDENTITY, THEIR PARENTS MAY BE UNSURE HOW TO OFFER SUPPORT.
Our research adds to the evidence that transgender adolescents' perception of their parents' support may be the key protective factor in the teens' mental health. It's that perception of support that parents want to nurture. What can you do? It's things like offering a hug, being there to listen. These are things anyone can do. They are free and fully reversible, whatever path the teen takes in their gender journey. There are no medical side effects to listening and giving hugs, or trying your child's preferred name and pronoun.
IT'S ALL ABOUT HELPING THE TEEN FULLY EXPLORE WHO THEY ARE.
In this GUIDE you'll learn:
CHILDREN AND TEENAGERS GENDER VARIANT: WHO ARE THEY REALLY?
GENDER DYSPHORIA
Therapy for children and adolescents
Adult therapy
Feminizing hormone treatment
Masculinizing hormone treatment
Female to Male Surgery
Male to Female Surgery
SOCIAL TRANSITION IN EARLY CHILDHOOD
Physical interventions in adolescents
ACCEPT WHO YOU ARE
ON COMING OUT
The Problem Is Not Transsexuality, But Hatred of What Is Different
Assigned sex vs perceived sexual identity
Transsexuality and intersexuality
PARENTING A TRANGENDER TEENAGER
HOW TO KNOW IF A CHILD IS TRANSGENDER
TRANSGENDER CHILDREN AND ADOLESCENTS: GUIDELINES FOR PROPER GROWTH
5 THINGS PARENTS OF A TRANS CHILD NEED TO KNOW
HOW TO TALK TO CHILD ABOUT GENDER
TESTIMONIALS
And Much, Much More!
Feel Free to contact me for book requests, informations or feedbacks.
Without You And Your Support We Can't Continue
Thanks For Buying Premium From My Links For Support