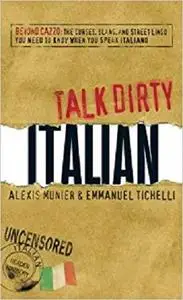 Talk Dirty Italian: Beyond Cazzo: The curses, slang, and street lingo you need to know when you speak italiano by Alexis Munier
ISBN: 1598697692 | 208 pages | MOBI | November 17, 2008 | English | 0.51 Mb
This sort of Italian isn't Church sanctioned.
Whether ordering a slice in Little Italy or riding along the Grand Canal,
Talk Dirty: Italian
is your guide to truly spitting the sauce. Loaded with plenty of words and expressions that could make Tony Soprano blush, you'll sound like you just got off the boat with entries like the one below. And with the curses, slang, and idiomatic expressions split into different situation-based sections, you're guaranteed to always know what to say–no matter where you are.
Italian word:
scopabile
Definition:
f**kable, lit. sweepable
Phrase:
Niente male la tua suocera; anzi direi che и propio scopabile.
Literal Translation:
Your mother-in-law is not so bad looking; in fact she's quite f**kable.
Feel Free to contact me for book requests, informations or feedbacks.
Without You And Your Support We Can't Continue
Thanks For Buying Premium From My Links For Support