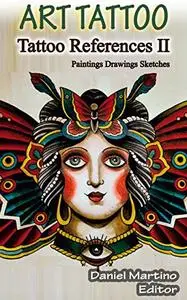 Tattoo images: ART TATTOO REFERENCES II: Paintings. Drawings. Flashes. Sketchs by Daniel Martino
English | January 27, 2015 | ISBN: N/A | ASIN: B00SUADUEA | 77 pages | Rar (PDF, AZW3) | 41 Mb
There are 74 images, from which 52 are in the Painting and Drawing Section and 22 in Sketches.
The artworks are divided by artist in each section, indicating the name and their information can be located in the artist index. All the artworks are printed in high resolution so all of them look like the original.
The compilation of artworks in this book covers all styles, without focusing one in specific. There are some artworks in styles like Traditional, Neo Traditional, New School, Realism, Black & Grey, Oriental, Biomechanical, Terror, Full Color, and Pointillism, as well as different thematic, genres and iconographies related to these styles.
The main objectives of this book is to diffuse the art works of this excellent artists, give a tool to help the professional tattooists to begin with a new tattoo or painting and making the choice easier for the tattoo lovers with great designs.
The artists included in this wonderful book are:
Painting and drawing
Alan Sarmiento – Alexandre Condonho - Atila – Bonel - CaioLeme – Capocha - ChaimMchlev - Colin Dale - Cori - David Rios "Deivid" - Didier Ra - Don McDonald - Esteban Fйlix - Eva Schatz - FaustoDaddasio - FrankoAnglas – Giscard - Hernбn Coretta y Salomй Sajnin - HorieiShinshu – Horihui - Hugo Nadal - Ignacio Tedeschi - Javier Obregуn – Kabra – Kowhey – Kraneo - Leandro Grilo - Lore Morato - Lucas LKS - LuchoLupia - Luciano LCN – Ludamal - Marcelo D'aloisio - Mauro Tampieri - Maxi Espino y Mikey Boy - Mikael de Poissy – Nash - Pablo Esquivel – Pato - Pipa Kabuki - Rata Da House - Rodrigo Peсa - SantyBarada – UEO - Vomit 3D - Wally Velбzquez - AgustнnGuareschi – Xandi - CamiloTuero – Ching - Federico Ferroni
Sketches
Andres Lietti – Charles – Cori - Erica Gonzбlez – Fako - HorieiShinshu - Jason Stephan - Juan Solo – Kraneo - Manuel Woodpecker - Nano Lucarelli - Naoki - NicoBogaz – Pato - Timur Lysenko - Vincent A - Will Gonzalez – Xandi - Guido Zacarias - Nahue Kabuki - Robson Torres
TAGS
tattoo gallery, tribal tattoo, tattoo art, tattoo ink, maori tattoo, tattoo machine, tattoo tribal tattoo studio, dragon tattoo, tattoo artist, body art, tats, eagle tattoo, tattoo designer, design tattoo, tattoo creator, dragonfly tattoo, cat tattoo, koi tattoo, best tattoos, wolf tattoo, art tattoo, half sleeve tattoo designs, ink tattoo, tattoo studios, tattoo names, henna tattoo
Feel Free to contact me for book requests, informations or feedbacks.
Without You And Your Support We Can't Continue
Thanks For Buying Premium From My Links For Support