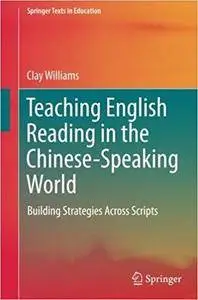 Teaching English Reading in the Chinese-Speaking World: Building Strategies Across Scripts by Clay Williams
English | 2016 | ISBN: 9811006415 | 185 Pages | PDF | 5.9 MB
This book investigates inherent, structural differences in the Chinese and English writing systems which predispose learners from childhood to develop specific literacy-learning strategies, which can impair later efforts at learning foreign language literacy if the foreign language script varies significantly from the native language script. It compares educational practices and philosophies in Chinese and English-speaking classrooms, and examines the psychological underpinnings of these literacy learning strategies. This book presents psychometric testing of adult reading strategy defaults and examines case study data, revealing that Chinese students are susceptible to misapplying Chinese character-level processing strategies to English word identification tasks, which decreases reading efficiency, and ultimately can lead to learning failure. Finally, a new educational framework is proposed for teaching beginning language-specific word identification and literacy-learning skills to learners whose first language script varies significantly from that of the target language.