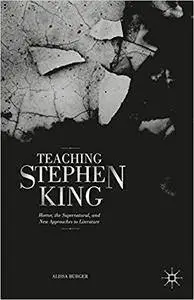 Teaching Stephen King: Horror, the Supernatural, and New Approaches to Literature by A. Burger
English | 2015 | ISBN: 1137483903 | 211 Pages | PDF | 3.0 MB
Teaching Stephen King critically examines the works of Stephen King and several ways King can be incorporated into the high school and college classroom. The section on Variations on Horror Tropes includes chapters on the vampire, the werewolf, the undead monster, and the ghost. The section on Real Life Horror includes chapters on King's school shooting novella Rage, sexual violence, and coming of age narratives. Finally, the section on Playing with Publishing includes chapters on serial publishing and The Green Mile, e-books, and graphic novels.