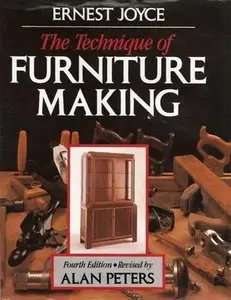 Ernest Joyce, Alan Peters, "The Technique of Furniture Making"
Batsford Ltd; 4 ed | 2003 | ISBN: 071348814X | 520 pages | PDF | 28,7 MB
First published in 1970 this is highly regarded by woodworkers and is suited to the amateur and professional alike. It has been revised to take account of changes in practice including the use of power tools, adhesives and computer-controlled machinery. The three sections deal with materials, tools and techniques; advanced construction techniques and metal fittings; running a workshop, draughtsmanship, furniture designs and restoration. The author was part-time Head of Furniture at a leading college until 1969. Alan Peters has won numerous awards and published in 1986 "Cabinet Making: the Professional Approach".
About the Author
Regarded by his contemporaries as one of the best cabinetmakers, the late Ernest Joyce not only supervised his own hand workshop but also acted as part-time Head of Furniture at one of the leading Colleges of Art until his retirement in 1969. Alan Peters carried out a 7-year apprenticeship to Edward Barnsley followed by a two-year spell at college on a craft teacher-training course. He then won a scholarship to the Central School of Arts and Crafts in London to study interior design. He established his first workshop in 1962, and moved down to Devon in 1973. He has won numerous awards and honours throughout his professional career, and in 1986 his work was the subject of a one-man touring exhibition. In 1984 he published Cabinet-Making: The Professional Approach.
Only

ONE (1)

RS mirror, please