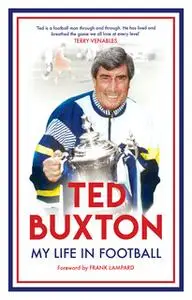 «Ted Buxton - My Life in Football» by Ted Buxton
English | ISBN: 9781912317271 | EPUB | 2.1 MB
As a professional football coach and football scout, Edward 'Ted' Buxton is well-known in the world of
professional football. He has travelled the world, scouting, assessing and negotiating for players working in the
UK, USA and China. But had it not been for football, Ted's prospects would have been no better than other
working class lads from South London…
A tough Docklands upbringing during the Blitz, and subsequent conscription for national service, lead 18-yearold
Ted away from playing football, to Malaya and the brutal realities of war. But it is here that he developed his
instinct to survive: kill or be killed. After the war, knowing he'll never make the big time as a player, Ted
realised his aptitude for coaching and spotting talent.
From ordinary butcher boy and soldier, to Chief Scout and assistant to Terry Venables at the England squad, this
inspiring book recounts life alongside many legendary football managers - Gordon Jago, Bobby Robson, Brian
Clough, Sir Alex Ferguson, Sven-Göran Erikkson and Arsene Wenger. Not forgetting the numerous players -
from George Best to Rodney Marsh, Alan Shearer, Paul Gasgoine, Glenn Hoddle, Ossie Ardiles, Pele,
Beckenbauer, Maradona - to name but a few.
The book is packed with anecdotes and encounters with the famous and infamous - from Ella Fitzgerald to the
Kray Twins, and behind-the-scenes at Downing Street and Buckingham Palace.