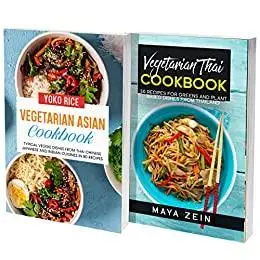 Thai And Vegetarian Asian Cookbook: 2 Books In 1: 130 Recipes For Spicy Tasty And Veggie Food From Thailand by Maya Zein
English | 2021 | ISBN: N/A | ASIN: B09JGM88SX | 215 pages | EPUB | 0.30 Mb
Are you looking for a Vegetarian Cookbook with 130 traditional recipes from all over Asian region?
In this 2 books in 1 edition by Yoko Rice And Maya Zein you will find 130 recipes for amazing Asian food.
In the first book,
Vegetarian Asian Cookbook by Yoko Rice
, you will discover the 80 most famous and easy to make vegetarian recipes from Asian cuisine.
Considering that pretty much all the Asian cuisines have in common the same staple food, rice and grain, and considering that there' s a basic need of feeding billions of people, it is not a surprise that vegetables are the natural dieting companions in the Indian Japanese Chinese and Thai cuisines.
Herbs are widely used in the Asian cuisine and spices have the role of giving flavors to the food. Vegetables just complete most of the recipes, being the star of many dishes. From noodles soup with cabbage or carrots, to beans and rice noodles, Asian cuisine not only can be interpreted in an healthy vegetarian way but it is also meant to have a large majority of dishes meat free.
In Vegetarian Asian Cookbook by Yoko Rice you will learn:
How to prepare typical and authentic Vegetarian Asian food at home
80 recipes for vegetarian Thai Chinese Indian and Japanese food
80 recipes with a small intro about Vegetarian Asian cuisine
If you like Asian flavors and are interested in exploring traditional vegetarian dishes from Asia, this cookbook is for you!
In the second book,
Vegetarian Thai Cookbook by Maya Zein
, you will discover the 50 most famous and easy to make vegetarian recipes from Thai cuisine, with a bit of history, interesting facts and more.
Ingredients such tofu or lemongrass or curry can be easily found in the local supermarkets and are excellent for home vegetarian thai dishes. Pad Thai or Tom Yum definitely do not need any meat foe being delicious!
In Vegetarian Thai Cookbook by Maya Zein you will learn:
How to prepare traditional vegetarian Thai food at home
50 recipes for the all time classic vegetarian Thai dishes
50 recipes with a bit of history and interesting facts for getting to know better the Vegetarian Thai cuisine
Feel Free to contact me for book requests, informations or feedbacks.
Without You And Your Support We Can't Continue
Thanks For Buying Premium From My Links For Support