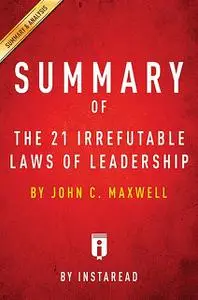 «The 21 Irrefutable Laws of Leadership» by Instaread
English | EPUB | 0.3 MB
Summary of The 21 Irrefutable Laws of Leadership by John C. Maxwell | Includes Analysis 
Preview:
The 21 Irrefutable Laws of Leadership
(2007) is a thorough look at the lessons in leadership the author, John Maxwell, has learned in his years as a pastor, leadership mentor, and consultant. This is the tenth anniversary edition of the book…. 
PLEASE NOTE: This is 
key takeaways and analysis
 of the book and NOT the original book. 
Inside this Instaread of The 21 Irrefutable Laws of Leadership:
Overview of the book
Important People
Key Takeaways
Analysis of Key Takeaways 
About the Author
With Instaread, you can get the key takeaways and analysis of a book in 15 minutes. We read every chapter, identify the key takeaways and analyze them for your convenience.