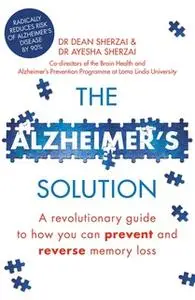 «The Alzheimer's Solution» by Dean Sherzai,Ayesha Sherzai
English | ISBN: 9781471162794 | EPUB | 1.0 MB
THE HIGHLY SUCCESSFUL, PROVEN PROGRAMME FOR REVERSING THE SYMPTOMS OF ALZHEIMER'S DISEASE
Alzheimer's Disease affects over 47 million people worldwide but 90 per cent of cases can be prevented.
Based on the largest clinical study to date, The Alzheimer's Solution, by leading neurologists and Alzheimer's specialists Drs Dean and Ayesha Sherzai, provides the essential practical tools you and your family need to reverse the symptoms and prevent cognitive decline.
Alzheimer's disease isn't a genetic inevitability and a diagnosis doesn't need to spell the end. Ninety per cent of us can avoid getting it and for the 10 per cent with strong genetic risk, the disease can be delayed by 10 to 15 years. This is based on the remarkable results Dr Dean Sherzai and Dr Ayesha Sherzai have seen in their own clinic.
This much-needed revolutionary book provides:
*The groundbreaking and successful programme for the treatment of Alzheimer's
*A practical 5-part plan for reversing and preventing Alzheimer's, covering food, sleep, exercise, stress-management and activities that keep your brain healthy
*A questionnaire for assessing your risk level and daily guides for optimising your brain's health
*Delicious and simple brain-healthy recipes for you and the family to enjoy
Praise for The Alzheimer's Solution:
'The Sherzais' research is changing the landscape of neurodegenerative diseases as well as the outcomes for thousands of patients.' Dr Keith Black, Chairman of the Neurosurgery Department and Director of the Maxine Dunitz Neurological Institute, Cedars-Sinai Medical Center
'A very important book.' Dr Dilip Jeste, Distinguished Professor of Psychiatry and Neurosciences, University of California, San Diego School of Medicine
'The Alzheimer's Solution supplies everything you need to know about the prevention of this disease'
Dr Joel Fuhrman, New York Times best-selling author of Super Immunity, Eat to Live and The End of Diabetes, President, Nutritional Research Foundation
'This [is a] thorough, thoughtful, empowering, and timely book…Every family should own, and apply, The Alzheimer's Solution.'
Dr David Katz, founding director of Yale University's Yale-Griffin Prevention Research Center, founder and president of the True Health Initiative, and author of Disease-Proof