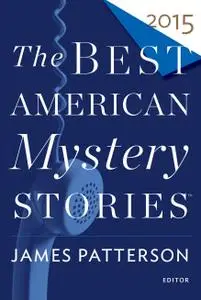 The Best American Mystery Stories 2015
by James Patterson, Otto Penzler
English | EPUB | 3.0 MB
In his introduction, guest editor James Patterson observes, "I often hear people lamenting the state of Hollywood . . . If that's the case, I've got one thing to say: read these short stories. You can thank me later." Patterson has collected a batch of stories that have the sharp tension, drama, and visceral emotion of an Oscar-worthy Hollywood production. Spanning the extremes of human behavior, The Best American Mystery Stories 2015 features characters that must make desperate choices: an imaginative bank-robbing couple, a vengeful high school shooter, a lovesick heiress who will do anything for her man, and many others in "these imaginative, rich, complex tales" worthy of big-screen treatment.
 The Best American Mystery Stories 2015 includes  
Tomiko M. Breland, Lee Child, Michael Connelly, Jeffery Deaver, Brendan DuBois,
Janette Turner Hospital, Dennis Lehane, Theresa E. Lehr, Joyce Carol Oates,  
and others 
JAMES PATTERSON, guest editor, has sold over 300 million books worldwide, including the Alex Cross, Michael Bennett, Women's Murder Club, Maximum Ride, and Middle School series. He supports getting kids reading through his children's book imprint, jimmy patterson, as well as through scholarships, grants, book donations, and his website, ReadKiddoRead.com.
OTTO PENZLER, series editor, is a renowned mystery editor, publisher, columnist, and the owner of New York's The Mysterious Bookshop, the oldest and largest bookstore solely dedicated to mystery fiction. He has edited more than fifty crime-fiction anthologies.