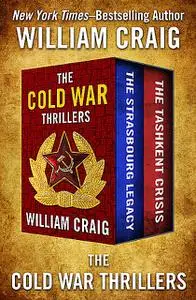 «The Cold War Thrillers» by William Craig
English | EPUB | 2.3 MB
Two explosive novels set in the perilous days when the world stood on the brink of chaos—from the New York Times–bestselling author of Enemy at the Gates.For almost fifty years after World War II, the United States and the Soviet Union played a dangerous game in the shadows. And from those shadows would emerge unsung heroes who would fight for freedom . . .The Strasbourg Legacy: Investigating the possible Soviet theft of US munitions, CIA agent Matt Corcoran hears rumors that German communists and Aryan terrorists are conspiring to assassinate political leaders. But far more ominous is the underground cadre of surviving Nazi officers bent on starting the Fourth Reich . . .The Tashkent Crisis: As tensions rise between the superpowers, the Soviets deliver an ultimatum: surrender unconditionally or a devastating secret weapon will kill millions of Americans. Now a Special Forces team led by Col. Joe Safcek must infiltrate a secret Soviet base and destroy the mystery weapon. But the closer they get, the more Safcek realizes it may already be too late . . .With these "furious-paced" novels of "timeclock suspense" William Craig takes readers back to a time when the Cold War could have started burning with a single spark (Kirkus Reviews).