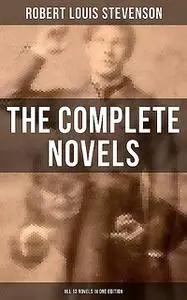 «The Complete Novels of Robert Louis Stevenson – All 13 Novels in One Edition» by Robert Louis Stevenson
English | EPUB | 2.9 MB
This carefully edited collection has been designed and formatted to the highest digital standards and adjusted for readability on all devices.
Contents:
Treasure Island (1882)
Prince Otto (1885)
The Dynamiter (1885)
Strange Case of Dr Jekyll and Mr Hyde (1886)
Kidnapped (1886)
The Black Arrow (1888)
The Master of Ballantrae (1889)
The Wrong Box (1889)
The Wrecker (1892)
Catriona (1893)
The Ebb Tide (1894)
Posthumous publications:
Weir of Hermiston (1896)
St. Ives (1897)
Robert Louis Balfour Stevenson (1850 — 1894) was a Scottish novelist, poet, essayist, and travel writer. Stevenson became a literary celebrity during his life when works such as Treasure Island, Kidnapped, and Strange Case of Dr. Jekyll and Mr. Hyde were released to eager audiences.