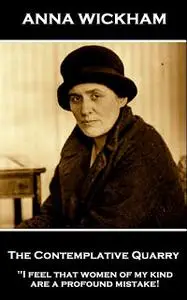 «The Contemplative Quarry» by Anna Wickham
English | EPUB | 0.0 MB
Anna Wickham was the main pseudonym used by Edith Alice Mary Harper who was born on 7th May 1883, Wimbledon, Surrey.
Her first poetry collection was published privately in 1911 under another pseudonym, John Oland. Appropriately enough it was called Songs by John Oland. The main theme of the book was the difficulties of relationships between men and women. Unfortunately, her possessive husband was very upset at her publication, having also shown little support for her earlier singing and acting careers. It led to violent quarrels and sadly Anna had a nervous breakdown and was admitted to a private psychiatric hospital for a period of six weeks.
Shortly after recovering, she met Harold Monro at his Poetry Bookshop. He encouraged her writing, and this led to a second collection being published in 1915. Her life now became increasingly split between domesticity and the yearned for bohemian life that was now calling her.
Whilst the poetry volumes she released are small in number she left behind several hundred unpublished poems that survived both the war and her life. Today she is regarded as a leading Modernist poet who was able to frankly express her desires and feelings through verse despite these often being at odds with the prevailing morals of the day.