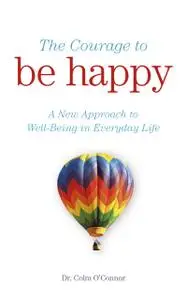 «The Courage to Be Happy» by Colm O'Connor
English | EPUB | 0.8 MB
We live in an age in which unhappiness, depression, stress and anxiety are everywhere. We struggle with things like bad relationships, work pressure, low self-esteem, worry and helplessness. The list is endless, because everyone is unhappy for different reasons.
Whatever the causes of your unhappiness, this book will lay out a way of looking at yourself that can transform your psychology and behaviour.
Presenting the 'why', 'what' and 'how' of happiness, Colm O'Connor will inspire you to take your emotional well-being seriously and show you how to build essential happiness-enhancing disciplines into everyday life. In showing how we need to 'do happiness' rather than how to 'get happiness' you will discover a new way to help awaken your innate happiness and well-being in a deeply human and practical way.
Inside you will find a list of the 21 things that are essential for happiness, the 15 principles of happiness, and a method that is easy to integrate with daily routines.
To get access to free interactive material to accompany this book please visit
www.couragetobehappy.ie