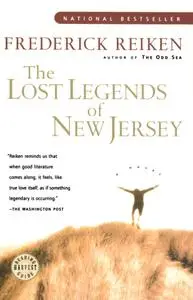 The Lost Legends of New Jersey
by Frederick Reiken
English | EPUB | 1.2 MB
Romeo and Juliet in northern New Jersey? Yiddish constellations in Asbury Park? A garbage dump in the Meadowlands that's filled with old musical instruments from a high school marching band? Love and sex, hockey and snorkeling, a family that is falling apart despite the best intentions-this is what Frederick Reiken has delivered in his brilliant second novel.But the real subject is true love, the one and only-known in Yiddish as b'shert. Anthony Rubin, the young protagonist, isn't sure whether he's found it with his neighbor, Juliette, daughter of a reputed Mafioso. His mother, who quits the family after her husband's affair with a neighbor, doesn't believe in true love at all. But his father does, and so does Anthony's grandpa, who meets the love of his life at 78. Reiken is known for creating characters you feel you've known all your life, for mapping landscapes with profound intimacy and wonder. The Lost Legends of New Jersey is a rich, resonant book, filled with joy as well as heartbreak, and the extraordinary magic that can arise within ordinary lives.