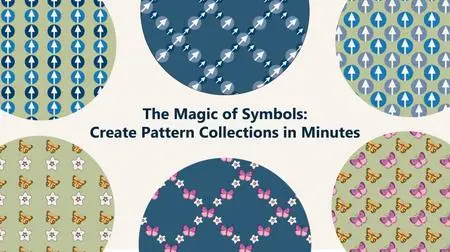 The Magic of Symbols: Create Pattern Collections in Minutes
Duration: 2h 2m | .MP4 1280x720, 30 fps(r) | AAC, 44100 Hz, 2ch | 973 MB
Genre: eLearning | Language: English
If you're considering watching this class, you're probably a surface pattern designer looking for ways to improve your workflow and productivity.
You're usually bursting with ideas and have a library of motifs ready to be turned into beautiful patterns; but sometimes, maybe after you've made your hero pattern, you're finding it difficult to create coordinating or blender patterns. Where to start? How to arrange the motifs?
Wouldn't it be great if we could start creating a pattern collection in just minutes,that would give us many different choices of layouts to pick from?
That is why I created this class. Here I will teach you:
what are symbols and how they work
how to create and save a library of symbols (including symbols for your backgrounds)
how to create and use actions to speed up your work
how to set up randomly and manually arranged pattern templates
how to use scripts to create random layouts of motifs
how to randomly rotate, flip and shrink your motifs
how to make pattern tiles
how to export to upload on POD sites like Spoonflower
By the end of this class you will have not only a library of templates to get you started, but you will have acquired the skills and knowledge to make more symbols and templates of your own.
Furthermore, you will be able to apply your new skills to many other projects too.
I've also included 2 bonus lessons for you and an Adobe Illustrator Template File you can download which includes the layouts I show you how to create during the class and 27 color palettes, just in case you need a little color inspiration!
This class is for you if you have already the knowledge of how to make a repeat pattern and at least a basic knowledge of Adobe Illustrator, but better still if you are at an intermediate level.
If you would like to learn more about the most common pattern repeats I'd suggest you take a look at my other class: The 9 Most Common Surface Pattern Repeats and How To Create Them where I teach how to create the most common pattern repeats starting from the simple square repeats.
And if you are having problems with your repeats you can check my other class: The Most Common Mistakes When Creating a Repeat Pattern and How To Fix Them
For this class you will only need Adobe Illustrator and some motifs you have already made into vectors. Don't worry of you don't know how to draw, geometric motifs like triangles and stars or very simple doodles will work too!
More Info