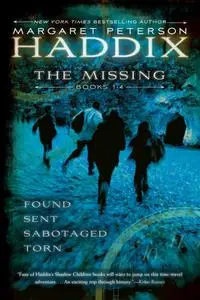 The Missing Collection by Margaret Peterson Haddix
by Margaret Peterson Haddix
English | EPUB | 13.2 MB
Thirteen-year-old Jonah has always known that he was adopted, and he's never thought it was a big deal. Then he and a neighbor, Chip, who finds out he's also adopted, begin receiving mysterious letters, saying things such as: "You are one of the missing," and, "Beware! They're coming back to get you."
Jonah, Chip, and Jonah's little sister Katherine are plunged into a mystery that involves the FBI, a vast smuggling operation, an airplane that appeared out of nowhere—and people who seem to disappear and reappear at will…and make a staggering discovery: Jonah and Chip, and some other kids are actually the missing children from history, stolen for profit by time travelers. Now, they are caught in a battle between two opposing forces that want very different things for them–and their choices will determine the course of their own lives, and the lives of their friends.
Get the first four riveting books in Margaret Peterson Haddix's New York Times bestselling series The Missing, now available at one great price!