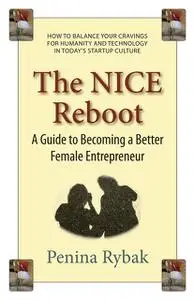 «The NICE Reboot» by Penina Rybak
English | EPUB | 0.6 MB
Lack of confidence and fear of failure often hold women back from being entrepreneurs. In The NICE Reboot, Penina Rybak provides a self-help manual for today's female entrepreneurs who are looking for practical help, who need to stay current, and who want to be more tech-savvy. Entrepreneurs who are also trying to juggle work, family, personal growth, and satisfaction with their lives.This inspirational as well as practical book is for entrepreneurs who need to learn about current technological trends and how these trends affect marketing, productivity, and their success. Based on her extensive personal experience, Rybak reveals: Practical strategies to increase your business and technology IQs; The imperatives you need to fulfill to orchestrate change and make a difference for future generations; How the iPad can be used to help you forge a path to create innovative services/products.The book is filled with examples and inspiring advice from entrepreneurial thought leaders, hyperlinks to hundreds of helpful articles, and philosophical questions for you to consider. It's a blueprint of best practices to help you become a better female entrepreneur in today's start-up culture.