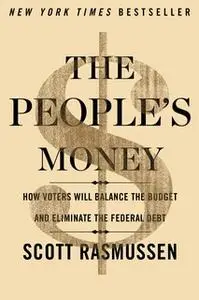 «The People's Money» by Scott Rasmussen
English | ISBN: 9781451666120 | EPUB | 0.7 MB
When it comes to the economy, American voters can no longer count on the Political Class. We are the ones who truly want progress, and—despite what politicians would lead us to believe—we are the only ones willing to make the difficult but necessary changes that willrestore our country's fiscal sanity.
For years, Americans have elected candidates who promise to reduce spending. Yet spending has steadily increased for more than half a century. For just as long, politicians have blamed voters, claiming a lack of public support for the necessary cuts to reduce the budget deficit. On the contrary, evidence suggests that voters are far more willing than politicians to make the compromises to eliminate this massive burden from future generations. Now, influential political analyst Scott Rasmussen, one of the most recognized public opinion pollsters in America, proves that our politicians are intentionally perpetrating a flat-out lie about their short-sighted and destructive economic choices and our hard-earned money.
In The People's Money, Rasmussen explores clear-headed, responsible, and reasonable ways to eliminate a deficit that is much larger than politicians would have us believe—$123 trillion and counting—all with the vast support of the American people. This is Rasmussen on:
·The bailouts—the cause and effects, and the catalyst that fueled the current era of discontent
·National defense—and the $100 billion annual cost that could be erased today with absolutely no threat to security
·Social security—and a plan that could not only reduce spending by trillions of dollars but offer a more satisfying plan for retirees
·Tax burdens—and the truth behind the changes Americans are willing to make for the sake of their country
·Government payroll—and the commonsense cuts that are necessary
·Health care—and why the current plans, from both Republicans and Democrats, are financially unhealthy
Drawing on a comprehensive review of history, revelatory budgetary documents, and enlightening public opinion polls, Rasmussen lays out a step-by-step budget that could wipe out trillions from the national debt. It's his job to call on the American people for their opinion. Resoundingly, they have called back with a collective voice that is at once hopeful, frustrated, honest, and angry. If only the American Political Class would listen. Until then, The People's Money is a call to arms for the people to be heard, an ultimatum for a grossly out-of-touch American political system, and one of the most provocative, important, informed, and yet hopeful books on the economic state of the country yet written.