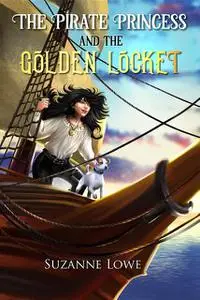 «The Pirate Princess and the Golden Locket» by Suzanne Lowe
English | EPUB | 1.6 MB
The Pirate Princess and the Golden Locket
is a fictional pirate adventure story for 7 to 12 year-old children by Australian author Suzanne Lowe.
The story follows Lotty; a young, high-spirited orphan who has grown up at the Sevenoaks home for children. The boring life of the home, as well as the nasty house mistress, Miss Thumble, convinces Lotty that she wants a life filled with adventure and freedom.
Little does Lotty know that things are about to change for her and her wish might just come true. When on her twelfth birthday, Lotty is unexpectantly cast out from Sevenoaks home, her life suddenly becomes an exciting adventure as she soon encounters lazy pirates, hidden islands and uncovers a mystery that will change her life forever. 
Taken aboard the ship,
Dorchester,
her adventure begins when a treacherous storm casts Lotty and her new-found friend, Mr Jacks, a cheeky little dog, overboard. After a freezing night lost at sea, they reach an unknown island; only to be captured by cut-throat pirates and forced to work for the thunderous Captain Horatio.
The conclusion of the story gives the reader an unexpected twist when after agreeing to help the pirates find their treasure, Lotty makes an amazing discovery that will change her life forever. She must decide whether she will become a pirate and roam the seven seas or return to the mainland and her friends at Sevenoaks.  
A story full of excitement and adventure, filled with friendship, humour and pirates!