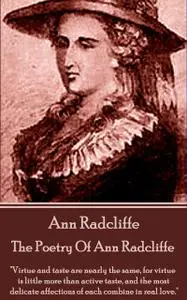 «The Poetry Of Ann Radcliffe» by Ann Radcliffe
English | EPUB | 0.0 MB
Ann Radcliffe was born Ann Ward on 9th July 1764 in Holborn, central London to parents William and Ann. For writer who illuminated her times very little is known of her life. Her father was a haberdasher and the family eventually moved to Bath and lived in well to do gentility. Ann married journalist William Radcliffe, an Oxford graduate, the owner and editor of the English Chronicle, in 1788. The couple's marriage was happy but childless. Radcliffe's career was all consuming. Ann, spending most of her time at home with no children or husband began to develop a literary career to make use of this spare time. It is thought that she would read her writings to him and that he encouraged her to write. Her first novels, The Castles of Athlin and Dunbayne (1789) and A Sicilian Romance (1790) were published anonymously. She achieved a wide fame with her third novel, The Romance of the Forest (1791), a tale of 17th-century France. Her next novel, The Mysteries of Udolpho (1794), turned her into the most popular novelist in England. Such was the interest in her that the famed Christina Georgina Rossetti wished to write a biography of her but abandoned the project as there was scant information to use. However we do have her books, six novels in total of which five number several volumes each. They demonstrate her demonstrate vivid descriptions and strong characterisations of tender heroines. She was a pioneer of the Gothic romance adding suspense and sensibility to give the genre a respectability and widespread popularity that it had never previously enjoyed. Strangely she travelled little, her only journey abroad, to Holland and Germany was made in 1794 after most of her novels had been published. It is said many of her beautiful descriptions come from paintings that others painted of the scenes. There is no explanation for why, at the age of thirty-two, the most popular writer of her times stopped publishing, though there is a vast amount of speculation, many years prior to her death on 7th February, 1823.