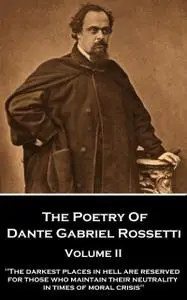 «The Poetry of Dante Gabriel Rossetti – Volume II» by Dante Gabriel Rossetti
English | EPUB | 0.0 MB
Dante Gabriel Rossetti was born on May 12th 1828 in London, England. The young Gabriel Charles Dante Rossetti was the son of émigré Italian scholar Gabriele Pasquale Giuseppe Rossetti and his wife Frances Polidori. To family and friends he was Gabriel, but in print he put the name Dante first (in honour of Dante Alighieri). It was an artistic family of siblings; he was the brother of famed poet Christina Rossetti, critic William Michael Rossetti, and author Maria Francesca Rossetti. During his early years Rossetti was home educated and spent hours immersed reading the Bible, Shakespeare, Dickens, Scott and Byron. As a youth he was described as "self-possessed, articulate, passionate and charismatic" but also "ardent, poetic and feckless". He attended King's College School. Like his siblings he most wished to be a poet but had a keen eye as a painter, having shown a great interest in Medieval Italian art. His education continued at Henry Sass's Drawing Academy from 1841 to 1845 and he then enrolled at the Antique School of the Royal Academy, until 1848. After leaving the Royal Academy, Rossetti studied under Ford Madox Brown, with whom he remained close throughout his life. Following the exhibition of William Holman Hunt's painting The Eve of St. Agnes, Rossetti sought out Hunt's friendship. The painting based on the poem by Keats and Rossetti's own poem, "The Blessed Damozel", was an imitation of Keats, and he believed Hunt might therefore share his artistic and literary ideals. He did. Together they developed and founded the philosophy of the Pre-Raphaelite Brotherhood together with John Everett Millais. They had high ideals; to reform English art by rejecting the mechanistic approach first adopted by the Mannerists who succeeded Raphael and Michelangelo and the formal training introduced by Sir Joshua Reynolds. Their hope was to return to the detail, intense colours, and complex compositions of Quattrocento Italian and Flemish art. The eminent critic John Ruskin wrote: "Every Pre-Raphaelite landscape background is painted to the last touch, in the open air, from the thing itself. Every Pre-Raphaelite figure, however studied in expression, is a true portrait of some living person". The brotherhood's magazine, The Germ, was first published in 1850. Rossetti contributed a poem, "The Blessed Damozel", and a story about a fictional early Italian artist inspired by a vision of a woman who bids him combine the human and the divine in his art. Rossetti was always drawn to the medieval side of the movement, eagerly translating Dante and other medieval Italian poets, as well as adopting the stylistic characteristics of the early Italians. Rossetti first met his future wife, Elizabeth Siddal in 1849, when she was modelling for Deverell. By 1851, she was sitting for Rossetti and they were involved in an intense relationship. Rossetti's most abundant and personal works were pencil sketches of Lizzie at home that began in 1852 when he moved into Chatham Place with her. They became increasingly withdrawn, totally absorbed in each other. The lovers nicknamed each other; "Guggums" and "Dove". Rossetti also taught Lizzie to paint and write. She undoubtedly had talent. Both Rossetti and others supported her work and amongst a small circle it was admired. Lizzie however suffered from various health problems and Rossetti's treatment of her through liaisons with other women, despite an intense love for her, exacerbated her moods. Despite plans and several attempts to marry, it was only on May 23rd 1860 at St Clement's Church in Hastings that the ceremony took place. There were no family or friends present, just witnesses whom they had found in Hastings. Lizzie was so frail and ill that she had to be carried to the church. After the wedding, as soon as Lizzie was well enough, they left to honeymoon in France. In 1861, Rossetti together with William Morris became a founding partner in the decorative arts firm, Morris, Marshall, Faulkner & Co. Rossetti contributed designs for stained glass and other decorative objects. Meanwhile his marriage to Lizzie was troubled. The terrible hurt of Rossetti's affairs with other women had caused stress leading to depression and several other illnesses. She now began to take laudanum to which she became addicted. During 1861, Lizzie became pregnant. She was overjoyed but the resulting birth was a stillborn daughter. The death left Lizzie with a post-partum depression. Lizzie overdosed on laudanum in the early months of 1862. Rossetti discovered her unconscious and dying in bed some hours after they had had dinner with their friend Algernon Charles Swinburne. Rossetti was devastated by her death, and, at her funeral, he buried the bulk of his unpublished poems with her at Highgate Cemetery. Poetry and painting are closely entwined in Rossetti's work. His time was divided almost equally between them. He frequently wrote sonnets to accompany his pictures, spanning from The Girlhood of Mary Virgin (1849) and Astarte Syriaca (1877), while also creating art to illustrate poems such as "Goblin Market" by his sister. Rossetti's personal life was closely woven into his work, especially his relationships with his models and muses; Lizzie, Fanny Cornforth and the wife of William Morris, Jane. Jane Morris, regularly sat for him during the next few years, and it was said she "consumed and obsessed him in paint, poetry, and life". In 1869, William Morris and Rossetti rented a country house, Kelmscott Manor at Kelmscott, Oxfordshire, as a summer home, but it also became a retreat for Rossetti and Jane Morris to have a long-lasting and complicated liaison. During these years, Rossetti was prevailed upon by friends to exhume his poems from his wife's grave which he eventually did, collating and publishing them in 1870 in the volume Poems by D. G. Rossetti. The controversy on their publication was intense. Their eroticism and sensuality caused offence. One poem, "Nuptial Sleep", described a couple falling asleep after sex. It was part of Rossetti's sonnet sequence The House of Life, a complex series of poems tracing the physical and spiritual development of an intimate relationship. Rossetti beautifully described the sonnet form as a "moment's monument". The House of Life was a series of interacting monuments to these moments – an elaborate whole made from a mosaic of intensely described fragments. It was Rossetti's crowning literary achievement. The critical savaging together with the complications of his relationship with Jane Morris contributed to a mental breakdown in June 1872, and although he joined Jane at Kelmscott that September, he "spent his days in a haze of chloral and whisky". The next summer he was much improved, and both Alexa Wilding and Jane sat for him at Kelmscott, where he created a soulful series of dream-like portraits. In 1874, William Morris re-organised his decorative arts firm, cutting Rossetti out of the business. Rossetti, again staying at Kelmscott, when he heard the news, abruptly left in July 1874 never to return. Toward the end of his life, he sank into a morbid state, shadowed by addiction to chloral hydrate and increasing mental instability. He spent his last years as a recluse at Cheyne Walk. In 1881, Rossetti published a second volume of poems, Ballads and Sonnets, which included the remaining sonnets from The House of Life sequence. On Easter Sunday, April 9th, 1882, he died at the country house of a friend, where he had gone in a vain attempt to recover his health, which had been destroyed by chloral. The actual cause of death was by Bright's Disease, a kidney disease. Rossetti had been housebound for some years with paralysis of the legs, though his chloral addiction is believed to have been a means of alleviating pain from a botched hydrocele (the accumulation of fluid in a body cavity or sac) removal. He had been suffering from alcohol psychosis for some time brought on by the excessive whisky consumption used to drown out the very bitter taste of the chloral hydrate. e is buried at Birchington-on-Sea, Kent, England.