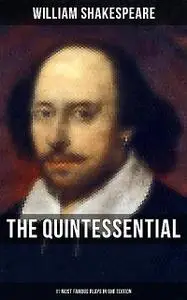 «The Quintessential Shakespeare: 11 Most Famous Plays in One Edition» by William Shakespeare
English | EPUB | 0.8 MB
William Shakespeare wrote numerous plays but it's definite which of them is distinctly the most famous. However, 'Romeo and Juliet', 'Macbeth', 'Othello' and 'Midsummer Nights Dream' stand out as among his most famous works. Here is a collection of his eleven famous unabridged plays.
Table of Contents:
Hamlet
Romeo and Juliet
King Lear
A Midsummer Night's Dream
Macbeth
The Tempest
Othello
As You Like It Julius Caesar
The Taming of the Shrew
Much Ado About Nothing
William Shakespeare (1564 — 1616) was an English poet and playwright, widely regarded as the greatest writer in the English language and the world's pre-eminent dramatist. He is often called England's national poet and the "Bard of Avon". His extant works, including some collaborations, consist of about 38 plays, 154 sonnets, two long narrative poems, and a few other verses, the authorship of some of which is uncertain.