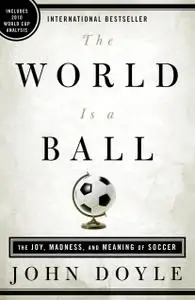 The World Is a Ball
by John Doyle
English | EPUB | 2.9 MB
Globe and Mail columnist John Doyle explores the international phenomenon of soccer
In A Great Feast of Light, John Doyle viewed his childhood in Ireland through the television screen. Now, he turns his eye to the most popular sport on the planet: soccer. It's a journey that begins with the first game John saw, in 1960s-era Ireland, through soccer in the 21st century—the World Cups in '02 and '06, the European Championships in '04 and '08. And Doyle has traveled the globe during the build-up to the 2010 World Cup.
In between the drunken fans, crazed taxi drivers, leprechauns and lederhosen, Doyle muses on the evolution of soccer as a global phenomenon. He shows a sport where for 90 minutes on the pitch anything seems possible. A game where colonized nations can tackle the power of their colonizers; where oppressed immigrant groups can thoroughly trounce their host countries.
This book examines soccer from a new angle. John Doyle offers a compelling social history of the ultimate sport, each country and team competing in the historic 2010 World Cup, and how the game has kept pace as the global village has sprung up around the playing field.