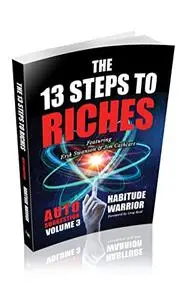 The 13 Steps to Riches : Habitude Warrior Volume 3: AUTO SUGGESTION with Jim Cathcart by Erik Swanson
English | November 15, 2021 | ISBN: N/A | ASIN: B09KRZX2C5 | 400 pages | EPUB | 5.08 Mb
Are you a student of Napoleon Hill's classic from 1937 Think and Grow Rich?
Has your life or business benefited from the timeless truths of this global classic?
Experience these foundational principles of success that carry on from generation to generation.
Presenting: The 13 Steps to Riches by Habitude Warrior Special Edition Volume 3 Auto Suggestion
Based on the timeless truths of Napoleon Hill's classic Think and Grow Rich, the 13 steps come alive in this modern-day journey by each hand-selected author in this first-ever series.
The 13 Steps to Riches by Habitude Warrior Special Edition Volume 3 Auto Suggestion features celebrity authors Erik Swanson and Jim Cathcart, with the foreword written by Greg Reid.
In this professionally published limited author series the entire 13-set series is being made available globally by Beyond Publishing, in all formats. Available in bookstores, libraries, and online stores everywhere.
Each volume features a Celebrity Author:
Volume 1: Denis Waitley - DESIRE
Volume 2: Sharon Lechter - FAITH
Volume 3: Jim Cathcart - AUTO SUGGESTION
Volume 4: Steve Sims - SPECIALIZED KNOWLEDGE
Volume 5: Glenn Lundy - IMAGINATION
Volume 6: Marie Diamond - ORGANIZED PLANNING
Volume 7: Dan Clark - DECISION
Volume 8: Alec Stern - PERSISTENCE
Volume 9: Erik Swanson - MASTERMIND
Volume 10: Loral Langemeier - TRANSMUTATION
Volume 11: Doria Cordova - SUBCONSCIOUS MIND
Volume 12: John Assaraf - THE BRAIN
Volume 13: Kevin Harrington - SIXTH SENSE
In this third volume, each of the contributing authors share their experience and journey of success in business and life overcoming obstacles and triumphs while utilizing one of the steps to riches… AUTO SUGGESTION! Surround yourself with the absolute best of the best and align yourself with high-performance individuals from around the world in the personal development space.
Feel Free to contact me for book requests, informations or feedbacks.
Without You And Your Support We Can't Continue
Thanks For Buying Premium From My Links For Support