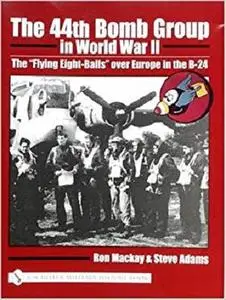 The 44th Bomb Group in World War II: The "Flying Eight-Balls" over Europe in the B-24 by Ron Mackay
English | August 18, 2003 | ISBN: 0764318853 | 272 pages | PDF | 53 Mb
The 44th Bomb Group, which flew the B-24 Liberator, was the "pioneer" unit for what evolved from the "Mighty Eighth's" 2nd Bomb Wing into a full-scale Bomb (and later Air) Division. The Group amassed an impressive 343 missions and won two Distinguished Unit Citations between November 1942 and April 1945, dropping nearly 19,000 tons of ordnance in the process including the legendary August 1943 Ploesti mission. These statistics were achieved at a material cost of around 200 aircraft, and a human cost of some 2,000 airmen MIA, as the 8th USAAF focused its strategic bombing campaign in the face of determined Luftwaffe opposition.
Feel Free to contact me for book requests, informations or feedbacks.
Without You And Your Support We Can't Continue
Thanks For Buying Premium From My Links For Support