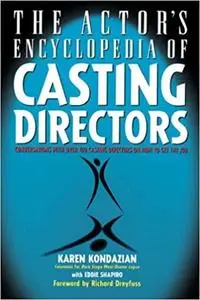 The Actor's Encyclopedia of Casting Directors: Conversations with Over 100 Casting Directors on How to Get the Job by Karen Kondazian
English | January 1, 2000 | ISBN: 1580650139 | 475 pages | PDF | 9.17 Mb
Karen Kondazian's newly revised and edited "The Actor's Encyclopedia of Casting Directors," compiles valuable inside information from over 100 premier casting directors, as regards to both Hollywood and New York film, television, theater and commercial auditioning. Bonus conversations included are discussions on film acting, with award-winning directors James Cameron and John Woo - and interviews with renowned acting coaches 'to the stars,' Larry Moss, Milton Katselas and Jeff Corey.
Great casting directors have the talent to identify which actor will fit that 'one role,' filtering through hundreds of 'potentials,' eventually delivering that actor into the hands of the decision makers. This in-depth book about the casting process informs actors what it's like to be on the other side of the desk, what each casting director likes, dislikes and is searching for in the audition process.
"The Actor's Encyclopedia of Casting Directors" exists to educate, inspire and empower actors because far too much in this business is out of their control. You have at your fingertips an invaluable resource that serves the actor in any number of ways - one unique example being, it includes a photo of each casting director. (How many actors are in a daze when they walk into the audition room wondering if they are auditioning for the casting director or their assistant - now they will know).
Karen Kondazian's experience as an award-winning actor and author ("The Whip," inspired by a true story) and her previous long running column for "Backstage," enabled her to ask questions on behalf of actors everywhere. The answers Kondazian has garnered for this book will hopefully give the actor real knowledge and confidence, so that when they walk out of the audition room, they know that they did their best.
Feel Free to contact me for book requests, informations or feedbacks.
Without You And Your Support We Can't Continue
Thanks For Buying Premium From My Links For Support