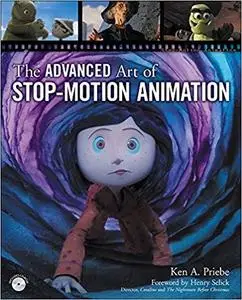 The Advanced Art of Stop-Motion Animation by Ken A. Priebe
English | June 17, 2010 | ISBN: 1435456130 | 352 pages | PDF | 53 Mb
Take an in-depth look at the art and techniques of stop-motion animation. The Advanced Art of Stop-Motion Animation helps experienced stop-motion artists enhance their craft by exploring the professional methods and advanced technology used by top film studios today. This book features expanded coverage of the basic principles of animation, including specific applications for character performance and visual effect compositing techniques. All the newest technology is touched on, including detailed information on camera rigs, effects, and shooting stop-motion in stereoscopic 3D. Discover new puppet building techniques, including the technology behind the rapid prototyping of computer models for stop-motion production. You'll even find a thorough history of early feature-length stop-motion films. The practical techniques and skills presented are enhanced by interviews with many of the most celebrated stop-motion artists as well as coverage of the work of several artists working in the online stop-motion community. Whether your focus is low-budget indie filmmaking or big studio productions, The Advanced Art of Stop-Motion Animation provides a comprehensive look at both the latest methods and the artists who are driving the revival of stop-motion animation.
Feel Free to contact me for book requests, informations or feedbacks.
Without You And Your Support We Can't Continue
Thanks For Buying Premium From My Links For Support