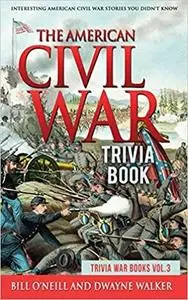 The American Civil War Trivia Book: Interesting American Civil War Stories You Didn't Know (Trivia War Books) by Lak Publishing
English | March 4, 2020 | ISBN: 1648450245 | 172 pages | Rar (PDF, AZW3) | 0.92 Mb
If you went to school in the United States, you probably learned about the Civil War - but this book won't be like what you learned in history class. Maybe your teacher took the controversial stand that the Civil War was all about states' rights… or maybe you learned all about the horrors slavery, but never quite figured out why things didn't get better after the war ended.
If you didn't go to school in the United States, things are even more confusing. When the media is full of references to the Confederate flag, the legacy of slavery, and poverty in the American South, you might have a vague sense that things are bad because of the Civil War… but why? Why does a war that happened over a hundred and fifty years ago still cast a shadow over the United States?
This book will tell you why. It will lead you, step-by-step, through the causes of the Civil War, and the effects. But unlike your high school history teacher, it won't put you to sleep with long-winded biographies and lists of dates. The names you'll learn are the big players, the ones with big personalities, who made big differences.
In just a few minutes a day, you can read bite-sized stories from the Civil War - quick, easy explanations to guide you through the main points, with just enough scary, surprising, or just plain strange facts to keep you coming back for more.
Each chapter ends with a bonus helping of trivia and some quick questions to test your knowledge.
By the time you're finished, you'll know all the facts your history teacher never taught you - from who said slavery was a "positive good" (and why they thought that), to who dressed up in women's clothing to escape from Union soldiers.
Feel Free to contact me for book requests, informations or feedbacks.
Without You And Your Support We Can't Continue
Thanks For Buying Premium From My Links For Support