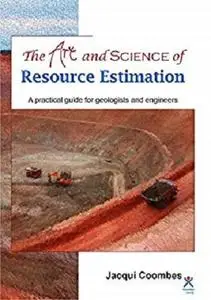 The Art and Science of Resource Estimation: A Practical Guide for Geologists and Engineers by Jacqui Coombes
English | April 12, 2016 | ISBN-13: 9780980490800 | 240 pages | PDF | 8.77 Mb
At last!
A book for geologists and engineers in the mining industry looking for practical guidelines for generating grade models.
This book will help you learn the resource estimation process and how to generate accurate resource models. The focus throughout is on implications of decisions rather than on the mathematics of geostatistics. The explanations are conceptual and supported with numerous practical examples.
This is not a book where you will learn the theory of geostatistics – there are many of those already. You will not find detailed discussions about formulae or debates about the current topical geostatistical technique. Instead this book is about the practical side of generating resource models. The key philosophy in this book is to search for and understand the evidence before selecting the most appropriate geostatistical tool and the associated parameters.
You will encounter many vagaries during resource estimation. These are in response to the uniqueness of the orebodies we attempt to model. Like people, each orebody has its own personality, its own history and the challenge before us is to describe the richness of each orebody in as much detail as we can. Once we are able to generate a model that accurately reflects our understanding of the in situ resource, we create opportunities to more accurately optimise and extract ore.
Here's to your learning journey and the great orebodies you will meet along the way!