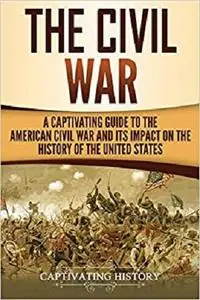 The Civil War: A Captivating Guide to the American Civil War and Its Impact on the History of the United States by Captivating History
English | September 19, 2018 | ISBN: 1727481380 | 108 pages | EPUB | 0.49 Mb
Explore the Deadliest War in American History
No other war in the history of the United States has sparked as much debate and conflict as the American Civil War. For over 150 years, the story of the Civil War has been a source of contention, confusion, and even contempt in American life. Even today, the American public cannot agree on the causes of the Civil War, never mind its lessons or legacy.
More Americans died in the Civil War than in WWI, WWII, and Vietnam combined. The war not only put Americans against Americans but family against family, neighbor against neighbor, friend against friend. The conflict between the Union and the Confederacy still runs deep in some parts of the United States. Indeed, the fundamental questions of the Civil War—questions about racial (in)equality, the rights of citizenship, and the role of government—remain hot debates today. In many ways, the war that claimed over 600,000 American lives a century and a half ago is still the biggest battle being waged on American soil.
In The Civil War: A Captivating Guide to the American Civil War and Its Impact on the History of the United States, you will discover topics such as
An Uneasy Nation
The Foundation Cracks
The First Shot
Welcome to War
Bloody Days
Proclaiming Freedom
The War Looks Grim
Turning the Tide
The Final Fight
The Final Fight
Reunited
Post-War America
And much, much more!
Feel Free to contact me for book requests, informations or feedbacks.
Without You And Your Support We Can't Continue
Thanks For Buying Premium From My Links For Support