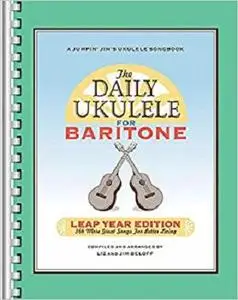 The Daily Ukulele: Leap Year Edition for Baritone Ukulele: 366 More Great Songs for Better Living by Jim Beloff, Liz Beloff
English | March 1, 2017 | ISBN: 1495085953 | 416 pages | AZW3 | 94 Mb
(Fake Book). Now baritone ukulele players can enjoy the Daily Ukulele: Leap Year Edition songbook. This super collection features all the same songs from the Leap Year Edition in the original keys but with baritone ukulele chord grids (DGBE tuning). Have fun strumming 366 well-known songs from the 1950s through today, by artists such as Carole King, Elton John, the Bee Gees, Stevie Wonder, the Beatles, Paul Simon, Bob Dylan, Michael Jackson and others, plus favorites from movies, Broadway, Motown and more. Like all of the Daily Ukulele songbooks, the arrangements feature melody, lyrics and ukulele chord grids in uke-friendly keys. A special "Ukulele 101" section, a chord chart, and vintage ukulele-themed photos round out the fun, all with a spiral binding for ease of use. Tunes include: Ain't No Sunshine * Anticipation * Bubbly * Calendar Girl * Come Monday * Falling Slowly * Hallelujah * I Got You Babe * Lean On Me * Moondance * Route 66 * Sweet Caroline * We Are the World * Y.M.C.A. * and scores more! The Daily Ukulele: Leap Year Edition for Baritone Ukulele offers ukulele fun all year long even on February 29th!