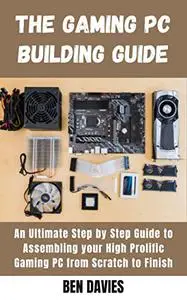 The Gaming PC Building Guide: An Ultimate Step by Step Guide to Assembling your High Prolific Gaming Computer System from Scratch to Finish by Ben Davies
English | 2022 | ISBN: N/A | ASIN: B09X8TFNY5 | 146 pages | PDF | 0.42 Mb
BASIC STEPS IN АЅЅЕMBLЕ A WORKING GAMING PC
The рrоѕ of a hоmе-buіlt PC аrе mаnу, but іt'ѕ a gооd іdеа tо mаkе ѕurе it's rіght for уоu. Yоu dоn't wаnt tо gеt іn tоо dеер аnd rеgrеt your decision. Building a gaming PC from scratch is the only sure-fire way to ensure that your system is capable of satisfying all of your personal preferences. When you determine everything that goes into your computer from the power supply up, you know that you'll be able to play the games you want at the frame rates you want. In addition, a home-built PC keeps the door open for upgrades — as technology changes, as your gaming tastes and needs change, or as your budget allows.
Though building a PC can seem intimidating, you might find that it's easier than you think, especially when broken into manageable steps. Before you build a computer, you need to decide why you want to build it. What do you want that you can't get from a prebuilt machine? Which parts will facilitate that goal? And how can you make sense of the hundreds of different tech specs between the half-a-dozen different pieces you'll need? That's why we've put together this comprehensive step-by-step guide to building your first gaming PC, complete with tips and tricks.<ul class="a-unordered-list a-vertical">
STEPS
<ol class="a-ordered-list a-vertical">
The first thing you need to do to prepare is gather the tools you need to complete the build. Preparing the materials below ahead of time goes a long way to ensure that the build process goes smoothly.
Before you start picking out components, you should have a case or at least a case size in mind. The main thing to keep in mind when picking a case is where you're going to put the computer. Your PC's final location will dictate how big you can (or cannot) go, and it will also help determine whether various premium case features are worth splurging on.
Are you ready to take the next step?
Feel Free to contact me for book requests, informations or feedbacks.
Without You And Your Support We Can't Continue
Thanks For Buying Premium From My Links For Support