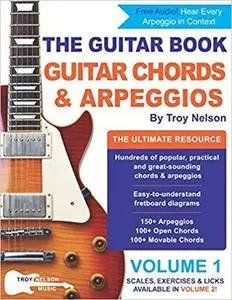 The Guitar Book: Volume 1: The Ultimate Resource for Discovering New Guitar Chords & Arpeggios by Troy Nelson
English | June 29, 2019 | ISBN: 1076770304 | 97 pages | PDF | 16 Mb
What makes the newly-released The Guitar Book: Volume 1 different?
More often than not, traditional chord "dictionaries" go for quantity over quality. You know the ones—they gleefully proclaim to have "over 2,500 chords inside!" The problem is, many of these chord shapes sound awful, are too difficult to play, or both.
Enter
The Guitar Book: Volume 1
!
Covering nearly
100 pages
,
Volume 1
contains an abundance of easy-to-play chord shapes.
Inside this book you will find:
•150+ Arpeggios
•100+ Open Chords
•100+ Movable Chords
•Major Chords
•Minor Chords
•Dominant Chords
•Diminished Chords
•Augmented Chords
Chock-full of useful information, including hundreds of common, practical, and great-sounding guitar chords and arpeggios,
Volume 1
can help you quickly learn all of the chords and arpeggios you need to know for guitar.
Author Troy Nelson has been playing guitar for over 30 years and has a passion for helping others learn to love the guitar as much as he does.
From the author of the
10-year bestseller
Guitar Aerobics
(Hal Leonard), Troy Nelson once again brings his easy-to-follow guitar teaching style to this helpful guitar resource handbook.