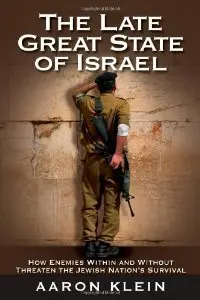 Aaron Klein, "The Late Great State of Israel: How Enemies Within and Without Threaten the Jewish Nation's Survival"
Publisher: WND Books; 1St Edition edition | ISBN 10: 1935071084 | 2009 | PDF | 240 pages | 11 MB
Israel is dying. And those responsible are not just the terrorists plotting its destruction, but also the political elites within its borders.Drawing on in-the-field reporting and research that has brought him to the front lines of the Middle East news cycle, acclaimed journalist Aaron Klein spells out the shocking truth. In this groundbreaking work, Klein will show how Israel is often its own worst enemy. And how Hamas, Iran and Palestinian terrorists are poised to end the democracy once and for all.Unless these perils are countered soon, warns Klein, the only remnant of the Jewish country may soon be an epitaph: 'The Late, Great State of Israel.