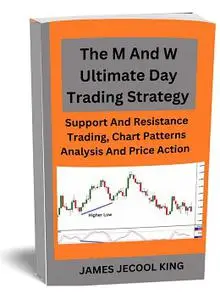 The M And W Ultimate Day Trading Strategy : Support And Resistance Trading, Chart Patterns Analysis And Price Action by James Jecool King
English | 2022 | ISBN: N/A | ASIN: B0BLTJZ5VZ | 60 pages | EPUB | 1.16 Mb
The M And W Patterns
The most crucial trading concept you will ever learn to understand and master as a professional or full-time trader is support and resistance levels which are where we find our M And W Formations. For profitable trading, it is extremely important to draw those levels precisely and neatly with the fewest possible errors.
A trader's success or failure will depend on how well you can draw those professional levels. If you don't draw those levels perfectly, you won't be able to trade effectively.
Those levels are drawn by both successful and unsuccessful traders, but the correct selection and drawing of support and resistance levels for trading is what differentiates winners from losers.
When drawing these levels, people make the mistake of spending too much time trying to find the right spots. Spending time putting the Support and Resistance levels in the right place is pointless because they are zones rather than lines.
A perfect line is impossible to draw. Because the most recent touch of these lines would not be exactly the same as the one before it, they tend to move a few pips as the market changes.
The market is moved by people, not machines. Because of this, trying to find the right spots and spending too much time perfecting your lines are pointless.
Feel Free to contact me for book requests, informations or feedbacks.
Without You And Your Support We Can't Continue
Thanks For Buying Premium From My Links For Support