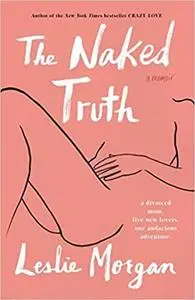 The Naked Truth: A Memoir by Leslie Morgan
English | May 21, 2019 | ISBN: 150117410X | 272 pages | PDF | 3.25 Mb
"A formidable, addictive storyteller, Morgan provides a highly stimulating story of a midlife education in the messiness of modern sex and love. A steamy, liberating tale of self-exploration and self-love that encourages readers to 'revel in your sexuality'" —Kirkus Reviews
Leslie Morgan, bestselling author of Crazy Love and Mommy Wars, was a mom turning fifty, reeling from divorce and determined to reclaim her life. In a radical break with convention, she dedicated a year to searching for five new lovers, seeking the rapture absent in a life of minivans and mom jeans—and finding a profound new sense of self-worth.
When Leslie Morgan divorced after a twenty-year marriage, both her self-esteem and romantic optimism were shattered. She was determined to avoid the clichй of the "lonely, middle-aged divorcйe" lamenting her stretch marks and begging her kids to craft her online dating profile. Instead, Leslie celebrated her independence with an audacious plan: she would devote a year to seeking out five lovers in hopes of unearthing the erotic adventures and authentic connections long missing from her life.
Clumsy and clueless at first, she overcame mortifying early missteps, buoyed by friends and blind faith. And so she found men at yoga class, the airport, and high school reunions—all without the torture of dating websites. Along the way she uncovered new truths about sex, aging, men, self-confidence, and what it means to be an older woman today.
Packed with fearless, evocative details,
The Naked Truth
is a rare, unexpected, and wildly entertaining memoir about a soccer mom who rediscovers the magic of sexual and emotional connection, and the lasting gifts of reveling in your femininity at every age.
Feel Free to contact me for book requests, informations or feedbacks.
Without You And Your Support We Can't Continue
Thanks For Buying Premium From My Links For Support