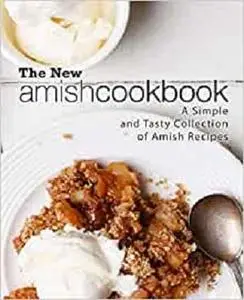 The New Amish Cookbook: A Simple and Tasty Collection of Amish Recipes (2nd Edition) by BookSumo Press
English | February 25, 2019 | ISBN: 1797946153 | 76 pages | PDF | 2.96 Mb
Amish Meals at Home
Come take a journey with us into the delights of easy cooking. The point of this cookbook and all our cookbooks is to exemplify the effortless nature of cooking simply.
In this book we focus on Amish food.
The New Amish Cookbook
is a complete set of simple but very unique Amish recipes. You will find that even though the recipes are simple, the tastes are quite amazing.
So will you join us in an adventure of simple cooking?
Here is a Preview of the Amish Recipes You Will Learn:
Crispy Chicken Biscuits
Molasses Tart Pudding
Cheese Roll
Sweet and Salty Dumplings Stew
Herbed Tomato Bites
Swiss Breakfast Bake
Crisco Pie Shell
Fruity Bread
Hamburger Casserole
Banana Bread
Sandwich Rolls
Applesauce Chocolate Chip Bread
Vanilla Bread
Classic Amish Bread
Honey Wheat Bread
Oatmeal Pudding
Cinnamon Monthly Bread
Marjoram Crispy Chicken
Classic Vanilla and Apple Tart
Amish Apple Crisp
Blanch Neige Pie
Traditional Amish Bread
Easy Amish Friendship Starter
Alternative 2-Ingredient Amish Starter
Much, much more!
Again remember these recipes are unique so be ready to try some new things. Also remember that the style of cooking used in this cookbook is effortless. So even though the recipes will be unique and great tasting, creating them will take minimal effort!
Related Searches: Amish cookbook, Amish recipes, Amish cooking, mennonite cookbook, country cookbook, country recipes, mennonite recipes
Feel Free to contact me for book requests, informations or feedbacks.
Without You And Your Support We Can't Continue
Thanks For Buying Premium From My Links For Support