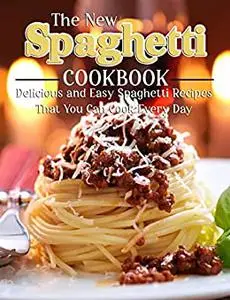 The New Spaghetti Cookbook: Delicious And Easy Spaghetti Recipes That You Can Cook Every Day by Jayme Rohan
English | 2022 | ISBN: N/A | ASIN: B09ZBJB8TM | 65 pages | EPUB | 0.13 Mb
The New Spaghetti Cookbook: Delicious And Easy Spaghetti Recipes That You Can Cook Every Day
Spaghetti comes in a wide range of forms and sizes, from fettuccine to shells. The New Spaghetti Cookbook includes all of your favorite pasta meals.
It stands to reason that people eat pasta. It's cheap, adaptable, easy to make, and delicious. It might be utilized in tens of thousands of various types of meals. The majority of the meals are tomato-based, which we can thank the Italians for again again. Eating pasta with exactly the perfect amount of sauce is a treat.
Because there are so many different ways to enjoy a bowl of pasta, The New Spaghetti Cookbook should keep your friends and family pleased for a long time.
Feel Free to contact me for book requests, informations or feedbacks.
Without You And Your Support We Can't Continue
Thanks For Buying Premium From My Links For Support