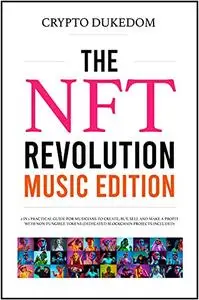 The Nft Revolution - Music Edition: 2 in 1 practical guide for musicians to create, buy, sell and make a profit with non-fungible tokens (dedicated blockchain projects included) by Independently published
English | June 17, 2021 | ISBN: N/A | ASIN: B09758T6BP | 112 pages | EPUB | 0.68 Mb
Are you looking to discover how you can make a profit on the NFT disrupting revolution?
Did you just find out about NFTs? Do you want to jump in as a musician?
Are you finding it tricky to get all the information in the same place or just utterly confusing?
If this sounds like you… then keep reading!
"The Nft Revolution – Music Edition" offers clear and comprehensive information regarding this new profitable and promising trend.
This guide tells about what NFTs are and all the essential information that you need.
The inner workings of NFTs and their fame and value are additionally covered in this practical guide. Areas of application and uses will allow you to know where you can start in this digital trend. Furthermore, the information in this book also lists the best marketplaces and the creation, buying, and selling process of NFTs.
In this 2 in 1 guide, you'll find out:
· A greater understanding of NFTs
· History, Key Concepts and Uses
· How to create, buy and sell NFTs
· Best marketplaces
· Success stories, innovative creators and disruptive projects
· Nft & Music (OneOf, Rocki, Audius…)
And much more!
Feel Free to contact me for book requests, informations or feedbacks.
Without You And Your Support We Can't Continue
Thanks For Buying Premium From My Links For Support