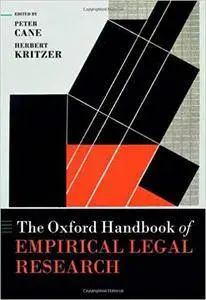 The Oxford Handbook of Empirical Legal Research (Oxford Handbooks) by Peter Cane, Herbert Kritzer
English | January 7, 2010 | ISBN: 0199542473 | 1000 pages | MOBI | 2.67 MB
The empirical study of law, legal systems and legal institutions is widely viewed as one of the most exciting and important intellectual developments in the modern history of legal research. Motivated by a conviction that legal phenomena can and should be understood not only in normative terms but also as social practices of political, economic and ethical significance, empirical legal researchers have used quantitative and qualitative methods to illuminate many aspects of law's meaning, operation and impact.
In the 43 chapters of
The Oxford Handbook of Empirical Legal Research
leading scholars provide accessible and original discussions of the history, aims and methods of empirical research about law, as well as its achievements and potential. The Handbook has three parts. The first deals with the development and institutional context of empirical legal research. The second - and largest - part consists of critical accounts of empirical research on many aspects of the legal world - on criminal law, civil law, public law, regulatory law and international law; on lawyers, judicial institutions, legal procedures and evidence; and on legal pluralism and the public understanding of law. The third part introduces readers to the methods of empirical research, and its place in the law school curriculum.