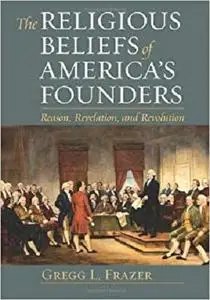 The Religious Beliefs of America's Founders: Reason, Revelation, and Revolution (American Political Thought) by Gregg L. Frazer
English | May 31, 2012 | ISBN: 0700618457 | 312 pages | EPUB | 0.66 Mb
Were America's Founders Christians or deists? Conservatives and secularists have taken each position respectively, mustering evidence to insist just how tall the wall separating church and state should be. Now Gregg Frazer puts their arguments to rest in the first comprehensive analysis of the Founders' beliefs as they themselves expressed them—showing that today's political right and left are both wrong.
Going beyond church attendance or public pronouncements made for political ends, Frazer scrutinizes the Founders' candid declarations regarding religion found in their private writings. Distilling decades of research, he contends that these men were neither Christian nor deist but rather adherents of a system he labels "theistic rationalism," a hybrid belief system that combined elements of natural religion, Protestantism, and reason—with reason the decisive element.
Frazer explains how this theological middle ground developed, what its core beliefs were, and how they were reflected in the thought of eight Founders: John Adams, Thomas Jefferson, Benjamin Franklin, James Wilson, Gouverneur Morris, James Madison, Alexander Hamilton, and George Washington. He argues convincingly that Congregationalist Adams is the clearest example of theistic rationalism; that presumed deists Jefferson and Franklin are less secular than supposed; and that even the famously taciturn Washington adheres to this theology. He also shows that the Founders held genuinely religious beliefs that aligned with morality, republican government, natural rights, science, and progress.
Frazer's careful explication helps readers better understand the case for revolutionary recruitment, the religious references in the Declaration of Independence, and the religious elements-and lack thereof-in the Constitution. He also reveals how influential clergymen, backing their theology of theistic rationalism with reinterpreted Scripture, preached and published liberal democratic theory to justify rebellion.
Deftly blending history, religion, and political thought, Frazer succeeds in showing that the American experiment was neither a wholly secular venture nor an attempt to create a Christian nation founded on biblical principles. By showcasing the actual approach taken by these key Founders, he suggests a viable solution to the twenty-first-century standoff over the relationship between church and state—and challenges partisans on both sides to articulate their visions for America on their own merits without holding the Founders hostage to positions they never held.
Feel Free to contact me for book requests, informations or feedbacks.
Without You And Your Support We Can't Continue
Thanks For Buying Premium From My Links For Support