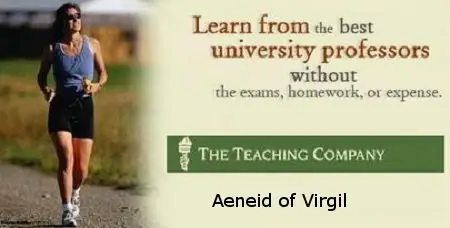 Aeneid of Virgil
12xDVDRip | AVI / XviD, ~684 kb/s | 640x480 | ~12 files x 30 min | English: MP3, 128 kb/s (2 ch) | 2.12 GB
The Aeneid is the great national epic of ancient Rome, and one of the most important works of literature ever written. It was basic to the education of generations of Romans, and has stirred the imaginations of such writers and artists as St. Augustine, Dante, Chaucer, Brueghel the Elder, Milton, Rubens, Tennyson, Ezra Pound, and T. S. Eliot.
00 - Professor Intro
01 - Introduction
02 - From Aeneas to Romulus
03 - Rome, Augustus, and Virgil
04 - The Opening of the Aeneid
05 - From Troy to Carthage
06 - Unhappy Dido
07 - Funeral Games and a Journey to the Dead
08 - Italy and the Future
09 - Virgil's Iliad
10 - The Inevitable Doom of Turnus
11 - The Gods and Fate
12 - The End of the Aeneid and Beyond
Welcome to the best movies collection (English, German, French language), best software, best eLearning video and many-many more:
LINK
Do not forget to check my blog! Updated regularly!