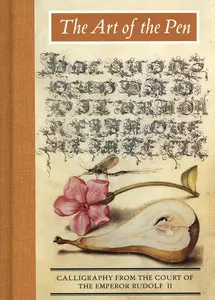 The Art of the Pen: Calligraphy from the Court of the Emperor Rudolf II
Publisher: Getty Publications | 2003 | Language: English | ISBN: 0892366222 | 64 Pages | PDF | 56 Mb
The court of the Holy Roman Emperor Rudolf II produced nothing more amazing than the "Mira Calligraphae Monumenta", a brilliant amalgamation of two arts - calligraphy and miniature painting. The project began when Georg Bocskay, a pre-eminent scribe) assembled a vast selection of contemporary and historic scripts ranging from the latest Italic and humanist writing to antique Roman and German Gothic. Years later, at Rudolf's behest, court artist Joris Hoefnagel filled the spaces on each manuscript page with images of fruit, flowers, insects and other natural minutiae. This marvel of the Central European Renaissance is now in the collection of the J. Paul Getty Museum. A selection from its pages is presented here in this book, which will be of interest to scholars, collectors, bibliophiles and art historians.
Download from RapidShare
http://rapidshare.com/files/327451507/The_Art_of_the_Pen_-_Calligraphy.pdf
Download from Depositfiles
http://depositfiles.com/files/gec734zbi
No mirrors, please!