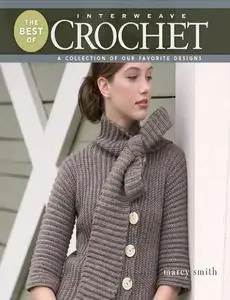 Marcy Smith "The Best of Interweave Crochet: A Collection of Our Favorite Designs"
2011 | ISBN: 1596683023 | English | 159 pages | PDF | 14.6 MB
The Best of Interweave Crochet presents the very best patterns by top designers from the magazine since its inception. From Kathy Merrick's color-rich Babette's Blanket to Kristin Omdahl's shapely Infinity Shawl to Lily Chin's flattering Lace Dress, you won't want to wait to get started on these popular projects and more.
You'll also find the in-depth instructions, tips, and techniques that you know and love from Interweave Crochet. Create bold new crochet creations using innovative variations on basic stitches and try your hand at more complex stitch motifs, Tunisian crochet, and lacework.
The Best of Interweave Crochet is a complete collection of top designs all in one easily accessible volume. Whether you're picking up a hook for the first time or you're a long-time crocheter, you'll love these twenty unique and popular projects.