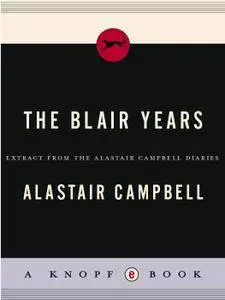 The Blair Years: The Alastair Campbell Diaries by Alastair Campbell
English | 2007 |ISBN: 0307268314 | 760 pages | EPUB | 9.00 MB
A revelatory account of Tony Blair's tumultuous leadership, The Blair Years gathers extracts from the diaries of the man who knew him best: Alastair Campbell–Blair's spokesman from 1994 to 2003, his press secretary, strategist, and closest confidant. It is a compelling chronicle of contemporary British politics and the rise of New Labour, providing the first important record of a remarkable decade in Britain's history.
Here are the defining events of the time, from the Labour Party's new dawn to the war on terror; from the death of Princess Diana to negotiations for peace in Northern Ireland; from Kosovo, Afghanistan, and Iraq to the Hutton Inquiry of 2003, the year Campbell resigned his position. Here also are Blair's relationships with world leaders and heads of state, including presidents Bill Clinton and George W. Bush. But above all, here is Tony Blair up close and personal, making the decisions that affected the lives of millions, under relentless and frequently hostile pressure.
Often described as the second most powerful figure in Britain, Alastair Campbell is no stranger to controversy. Feared and admired in equal measure, hated by some, he was pivotal to the founding of New Labour and the sensational election victory of 1997. Campbell spent more waking hours alongside the prime minister than anyone, and his diaries–at times brutally frank, often funny, always engrossing–take the reader right to the heart of government.
The Blair Years is a story of politics in the raw, of progress and setback, of reputations made and destroyed, under the relentless scrutiny of a 24-hour media. Unflinchingly told, it covers the crises and scandals, the rows and resignations, the ups and downs at No. 10 Downing Street. But amid the landmark events are insights and observations that make this a remarkably human portrayal of some of the most influential people in the world.