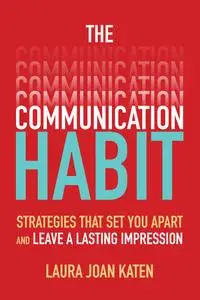 The Communication Habit: Strategies That Set You Apart and Leave a Lasting Impression by Laura Joan Katen
English | April 14th, 2020 | ISBN: 1260459160 | 272 pages | EPUB (True/Retail copy) | 1.87 MB
ACHIEVE THE NEXT LEVEL OF SUCCESS by mastering today's most powerful communication strategies - and avoiding common pitfalls.
Did you know it only takes seven seconds or less to make a first impression? Knowing that, it's easy to see why it's so essential to make every moment count. In The Communication Habit, one of the most renowned business communication experts will educate and empower you to create a positive and lasting impression through impactful communication. From learning how to speak someone else's "language" to non-verbal messaging, from impactful listening techniques to the art of confident (not arrogant) self-promotion, Laura Joan Katen offers practical time-tested techniques for applying the right communication tools in key business situations.
Each chapter is dedicated to different aspects of communication, throughout which you will learn to:
• Build and communicate confidence
• Establish and articulate your value
• Harness the power of language to articulate your ideas
• Approach difficult conversations
• Assert an effective voice at the table
• Recover, rebuild, and re-establish damaged relationships or negative impressions
• Communicate competence and credibility
Supported by a wealth of real-life examples from the thousands of business professionals Katen has helped, each of these techniques is practical and actionable. Every chapter includes exercises and questions to help you assess your own situation and tendencies, which will progress your professional growth and development.
Whether you're already an experienced executive or just starting out, The Communication Habit will become your blueprint for furthering your success.
Enjoy
My Blog
. No any convert or low quality!