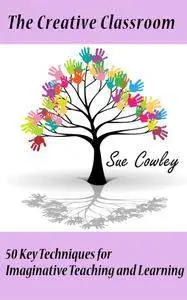 The Creative Classroom: 50 Key Techniques for Imaginative Teaching and Learning by Sue Cowley
English | April 22nd, 2013 | ASIN: B00CHPVZ82 | 121 Pages | EPUB/MOBI | 0.58 MB
In 'The Creative Classroom', best selling education author Sue Cowley offers you 50 key techniques to boost and develop creative teaching and learning. For each of the 50 techniques, Sue offers a series of practical tips, ideas and activities for you to use in your primary classroom or early years setting. She also gives a series of thinking points for you to consider, to help you reflect on the approaches you use, and why you use them.
As with all Sue's books, this guide is written in her much-loved practical, honest and realistic style. The ideas Sue gives here are ones you can put into practice straight away, to encourage an atmosphere where imagination and experimentation are valued and encouraged. The techniques in this book will help you achieve a happy classroom, in which your children feel free to express their ideas, build their imaginative thinking and develop their skills within different artistic disciplines.
If you find this book useful, you might also enjoy 'The Calm Classroom: 50 Key Techniques for Better Behaviour'.
The first edition of this book (in print version only) was originally published by Scholastic as 'You Can Have a Creative Classroom', but has now gone out of print. This ebook is an updated second edition of the original text.